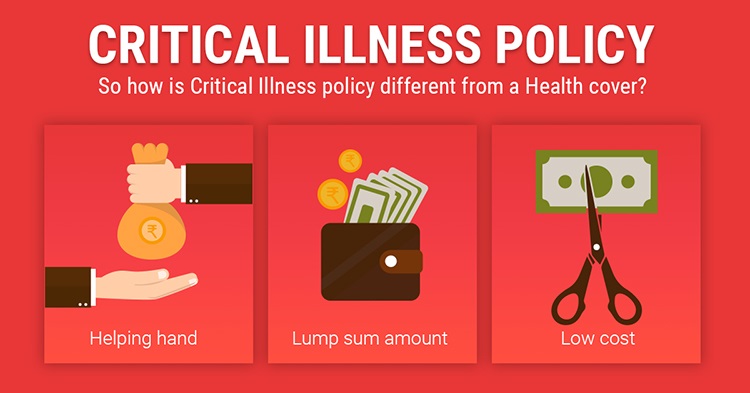 Critical illness
When facing a critical Illness, the decisions and expenses can be overwhelming. Critical Illness Insurance offers a one-time lump-sum payment to assist with your recovery, should a condition such as cancer, heart attack, stroke, or paralysis, occur.
Private in-home care, modifications to your home or vehicle, childcare: these expenses add up quickly. Critical illness insurance removes the stress of financial strain so you can concentrate on your care and recovery from serious illness.
Critical illness insurance premiums are determined by factors such as:
Amount of coverage
Total number of illnesses covered by the policy
Gender
Age
Tobacco use
Medical history
Critical Illness policy provides a lump-sum benefit that is usually payable 30 days after the diagnosis of one of a number of critical illness insured conditions, as per the policy, to name the few as below.
Critical illness insurance covers most of insured conditions as below:
• Alzheimer's Disease
• Aortic Surgery
• Aplastic Anaemia
• Bacterial Meningitis
• Benign Brain Tumour
• Blindness
• Coma
• Coronary Artery Bypass Surgery
• Deafness
• Heart Attack
• Heart Valve Replacement
• Kidney Failure
• Life-Threatening Cancer
• Loss of Limbs
• Loss of Speech
• Major Organ Transplant on Waiting List
• Major Organ Transplant
• Motor Neuron Disease
• Multiple Sclerosis
• Occupational HIV Infection
• Paralysis
• Parkinson's Disease
• Severe Burns
• Stroke
With advances in medical science improving the chances of survival after the diagnosis of a serious illness, there is a heightened need for insurance benefits designed to help protect your lifestyle after the onset of a critical illness.
A critical illness can happen to anyone:
• It is estimated there are over 70,000 heart attacks in Canada each year.
• There are between 40,000 and 50,000 strokes in Canada each year.
• An estimated 3,075 Canadians will be diagnosed with cancer every week.
Contact me, Insurance Broker M.K. today to get a free quote for your critical illness insurance need or click the link below to request a quote.